Associate Professor of Cinema Studies, School of Arts and Aesthetics, Jawaharlal Nehru University, New Delhi
Duration of stay: September 1 2022 to February 29 2024
Funded by Alexander Von Humboldt Foundation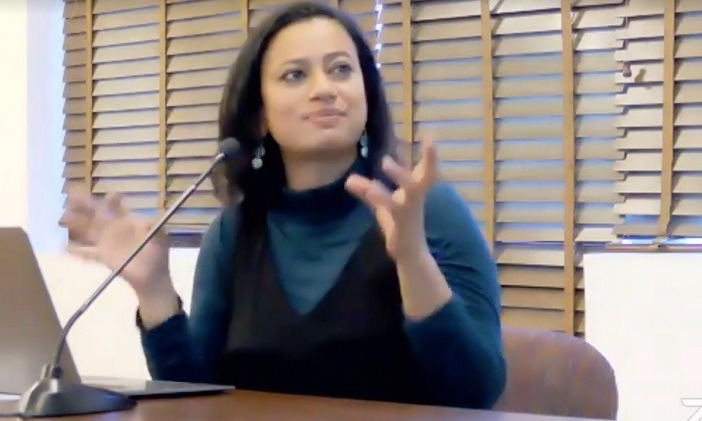 Veena Hariharan is currently Alexander Von Humboldt Fellow at the Department of Theater, Film and Media Studies at the Goethe Universität, Frankfurt. After completing her PhD in Cinema Studies from the University of Southern California, Los Angeles, USA, she taught at Jawaharlal Nehru University, New Delhi, India where she is Associate Professor at the School of Arts and Aesthetics. Her articles and chapters on non-fiction film, the environment and non-human animals have appeared in anthologies and journals. Her book, Embers of Reason: Contemporary Indian Documentary and the Secular Imagination is forthcoming from Cambridge University Press.
Research project title
Entangled Lives: Animals, Humans, and the Moving Image
Research abstract
By shifting the exclusive focus of studies on conflict and trust away from human worlds to include non-human animals, I underline the critical importance of the animal for thinking about human life. The project is located in my disciplinary focus of film and media studies, and I look at the entanglements of animals, humans and the moving image in the figure of the screen animal. Studies about animals are predicated on their fundamental otherness and disappearance under regimes of regulation and sanitization of human-animal boundaries in western industrial modernity. My research challenges this critical move by locating the animal in the feral cities of the postcolonial world where modern technologies of visuality, conservation, and governmentality on the one hand, and religion, mythology, human livelihoods, and traditional ways of life on the other, mediate everyday human encounters with animals. By studying these complex ecosystems where animals and humans coexist amid affective relationships of care, vulnerability and precarity, I hope to explore new, urgent and ethical ways in which to inhabit multispecies-worlds.
Publications
(2014) "At home in the Empire: The Colonial Home Movies of Edgar S Hyde", Bioscope: South Asian Screen Studies. 5(1): 49-61.
(2021) "The Shikar Film and Photograph: Hunting in Colonial India". In Blackwell Companion to Indian Film edited by Neepa Majumdar and Ranjani Mazumdar. UK: Blackwell.
(2022) "Contagious Aesthetics: Bios, Politics and Cinema in Contemporary Kerala". In "Cinema of the Global South: Towards a Southern Aesthetics" CISA (Centre for Indian Studies in Africa) Journal, University of Witwatersrand, Johannesburg, South Africa.
Events
Further information will follow