Diese Veranstaltung hat bereits stattgefunden.
Listening in Crip Time: Toward New Forms of Documentary Trust
7. Juni 2022/16:15

-

17:45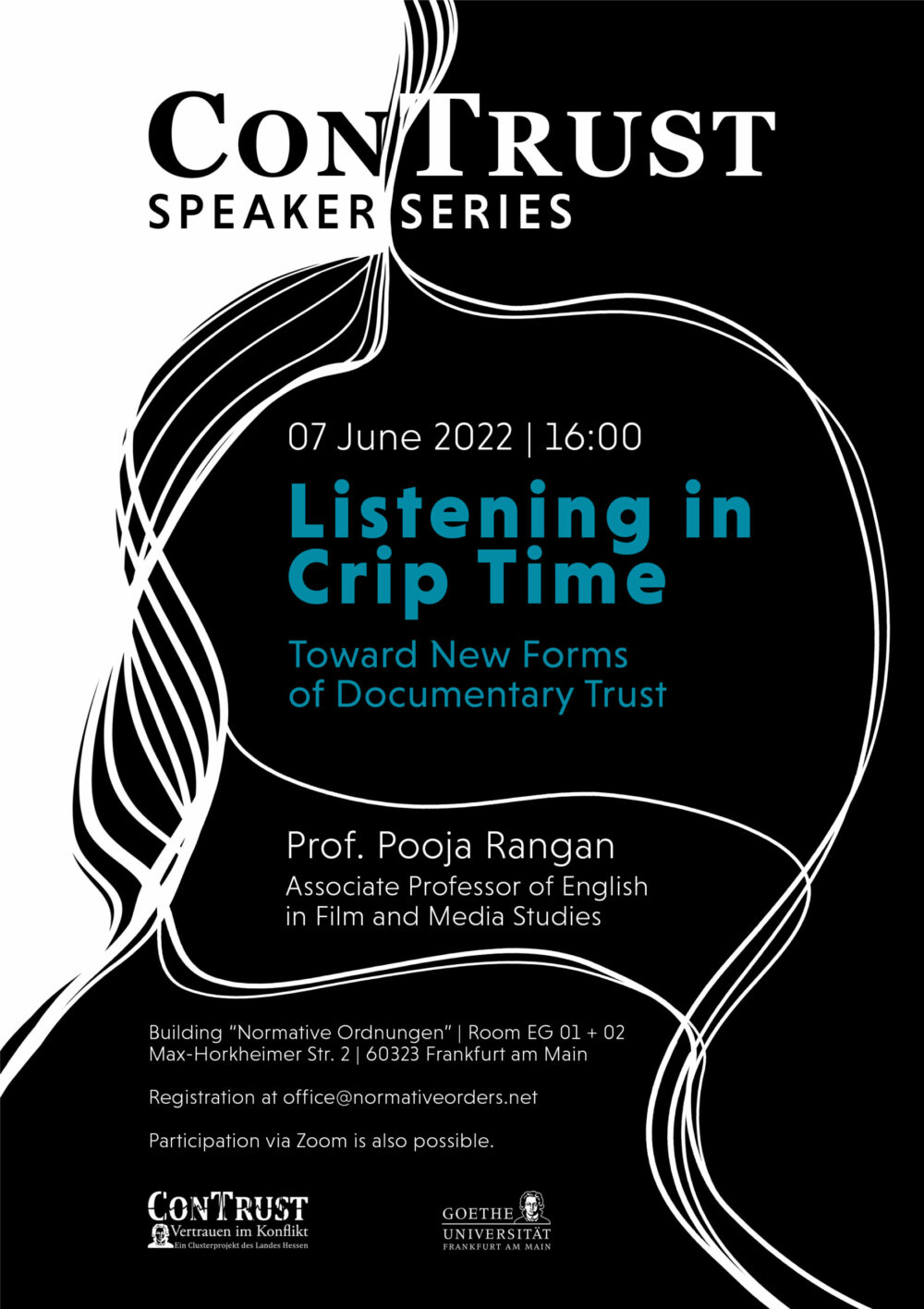 ConTrust Speaker Series
Lecture by:
Prof. Pooja Rangan (Associate Professor of English and Chair of Film and Media Studies, Amherst College)
In a recent provocation regarding the crisis of the journalistic arts, Brett Story argues that the future of documentary "lies in building new forms of trust." Story has in mind a collectivized structure for sharing resources and risk that make the field as a whole more accessible, by giving people room to develop skills, work, and relationships that serve their social needs and the common good rather than the demands of a market that pits them against each other. My talk – grounded in readings of Hara Kazuo's Goodbye CP (1972) and Jordan Lord's Shared Resources (2021, shown at Visible Evidence Frankfurt), and drawn from my current book project, On Documentary Listening – centers the importance of disability expertise and access activism in reimagining documentary trust. Whereas access is conventionally understood in industry parlance in adversarial terms, as a leveraging of influence or trust to gain entry into realms deemed to harbor documentary value, these films offer portals to a crip vision of access understood as a shared responsibility. They model approaches to listening that cultivate the social capacity for this vision by bending the clock away from the ableist values of productivity, self-sufficiency, and independence.
Pooja Rangan is a documentary scholar based in Amherst College, where she is Associate Professor of English and Chair of Film and Media Studies. Rangan is the author of the award-winning book Immediations: The Humanitarian Impulse in Documentary (Duke UP, 2017) and co-editor of Thinking with an Accent: Toward a New Object, Method, and Practice (forthcoming from UC Press, 2023). She is currently completing a book titled On Documentary Listening, and co-authoring a book with Brett Story on abolitionist documentary.
ConTrust Speaker Series
A standard assumption of research is that trust and conflict stand in opposition and exclude one another. ConTrust questions that assumption and inquires into the dynamics of trust and conflict in various contexts of social life. Can trust arise in, manifest itself and be stabilized in conflicts rather than apart from them? What are the conditions for that?
For further information: Click here…